How to use Adobe Flash player on Android phone?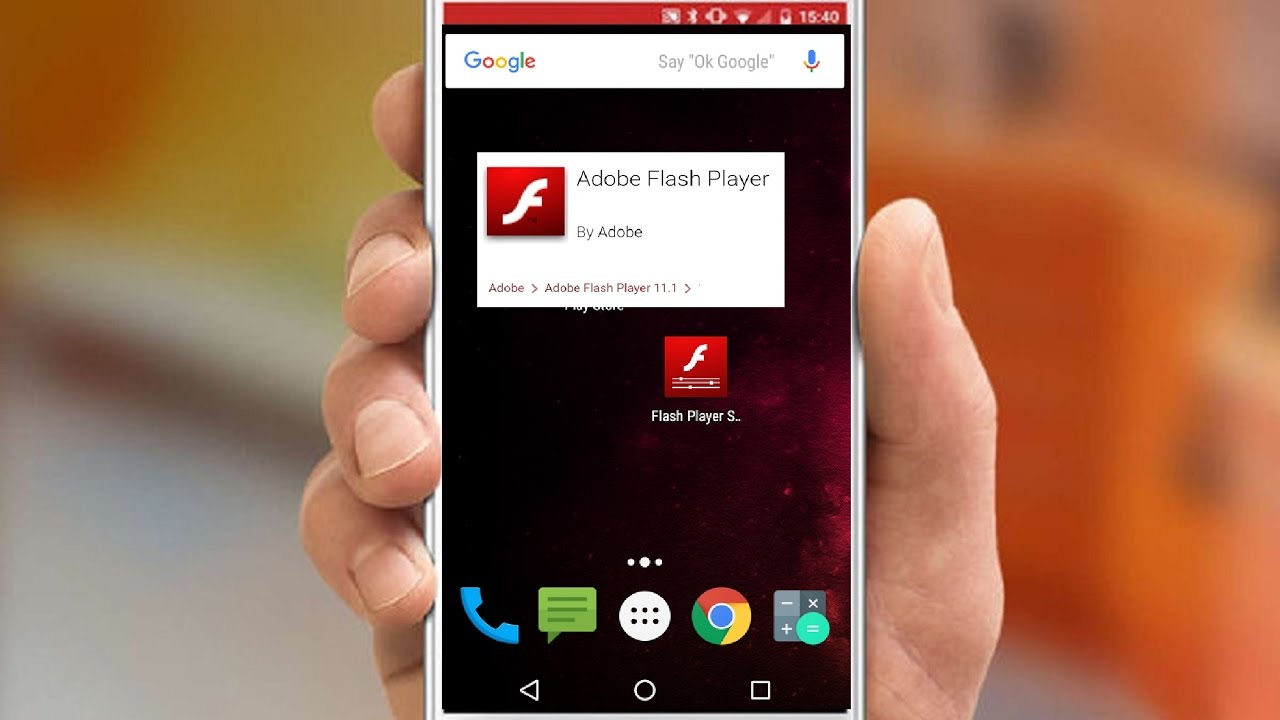 Flash Player has a few days, but there is still a lot of content on the web that uses this Adobe technology. The only bad thing is that Adobe does not have an official Flash Player application to install from Google Play, but there are alternatives. Here we show you how easy it is to enjoy the content in Flash with Android.
How to open and play all kinds of files and formats on Android
Note: Flash Player is vulnerable and using it is at risk of being infected with malware. This is the reason why Google eliminated by default the possibility of playing Flash content on Android devices. Flash Player only covers Android 4.0 Ice Cream Sandwich .
Since Flash Player 11.1 there is no official version for Android. With HTML5, Flash Player technology has not been as necessary and Adobe has stopped paying enough attention and has not patched security frequently. The main browsers such as Firefox and Chrome have it disabled by default due to their vulnerability.
Due to this lack of official support many developers have launched to cover this need, but not all with good intentions. If you have ever received an email to update to Flash Player on Android or a warning from a web page from your smartphone to install an apk with Flash Player, it was sure to be a malware.
For these cases it never hurts to have a good antivirus , since the main enemy of our system is usually ourselves.
How to install Adobe Flash Player on Android Nougat, Marshmallow and Lollipop
It is not necessary to have a specific application for Flash Player, it is enough to have a web browser capable of supporting Flash. Here you have the best solutions to enjoy Flash content.
Flashfox
This browser based on Firefox provides the necessary components to play the Flash content of any website. Its main advantage is that you only have to install to use it, you do not need to configure anything. It has a little publicity in the lower part but it does not bother much.
Dolphin Browser
Although Flash Player is not automatically configured in Dolphin Browser, activating it is extremely easy. Once the application is installed and opened, go to the Settings , and within Web Content you will find the option of Flash Player, inside select the option Always on .
The first time you open a web page with this type of content, it will ask you to download and install what you need to play Flash, accept it and let it do it, since from then on, you will be able to enjoy all this type of content on the internet.
Puffin Browser
Puffin Browser supports the latest version of Flash. In this browser you can emulate a mouse and arrow keys, exactly as if you were using a PC browser. You do not need to download anything to start Flash Player from the first moment, but the funny thing is that it is located in the cloud, although you may spend more megabytes when browsing pages with this type of content. It can go a little slow at times, but lowering the quality will be enough to gain fluency.
How to install Adobe Flash Player on Android 4.4 KitKat
How could it be otherwise, the guys at XDA Developers have found the way to have Flash Player in Android 4.4 KitKat. You must install Dolphin and the JetPack plugin, which is an HTML5 engine for Dolphin.
Web Browser Dolphin Browser Install on Google Play Dolphin Jetpack – Fast & Flash Install on Google Play
Activate the option to install applications of unknown origin in Settings> Security .
Download and install both Dolphin Browser and JetPack.
We downloaded the modified version of Adobe Flash Player made by the guys from XDA. Then we install it.
Open Dolphin Browser, go to Settings (clicking on the dolphin below), Web Content> Flash Player> Always on .
How to install Adobe Flash Player on Android 4.1 Jelly Bean
In Android Jelly Bean it is easy to install it. You simply need to download and install the APK. First of all I warn you, Chrome does not work with Flash Player on Android, so here you have the browsers that are compatible with the system.
Boat Browser Browser Install on Google Play Puffin Browser Pro Player and Browser Flash Web Browser Dolphin Browser Install on Google Play Install on Google Play Install on Google Play
How to install Adobe Flash Player in Android 4.0 ICS
As we have already mentioned Flash Player has coverage until Ice Cream Sandwich and is available from the Adobe website. Anyway it is a very obsolete version and it can suppose a security failure for your device. Here you can see how to install it:
Download Adobe Flash Player 11.1 for Android 4.0
Activate the option to install applications of unknown origin in Settings> Security
Install the APK file that you just downloaded to your smartphone
Depending on the browser, you must activate Flash content. The option is usually in the browser settings. Each one is different, but simple to use.