What is SEM and How it Differs from SEO?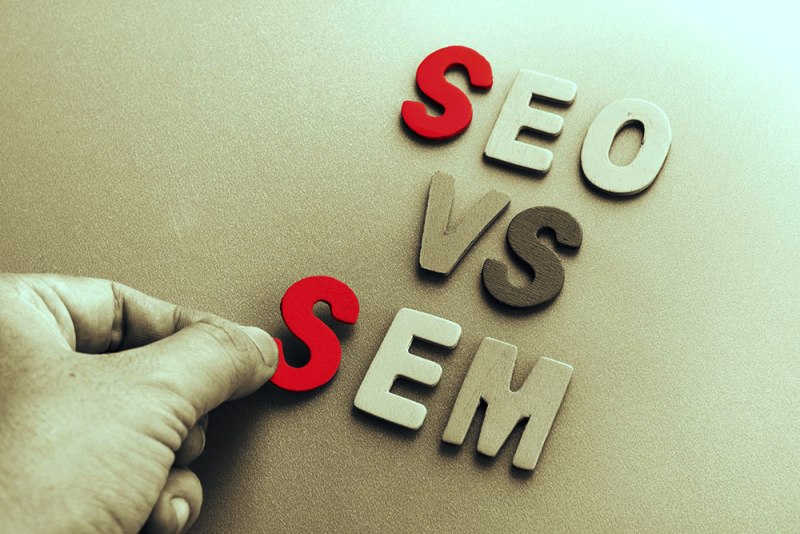 Internet marketing is becoming more and more important in implementing promotional activities of present scenario. Every organization has its own website, through which it wants to influence its clients and make them aware of products, services provided and brand awareness. For more visible on the Internet, it is necessary to optimize it.  Let's get to know these concepts and find out what is SEM and how does it differ from SEO?
What does SEM mean? What is SEO?
SEM (eg. Search Engine Marketing – marketing in search engines) is a group of promotional activities, such as carrying out a campaign of sponsored links, optimizing websites and SERP. Whose goal is achieved visibility of a website or web pages.
We've written about what is SEO before. Some people incorrectly assume that the concept of SEM can be identified with the concept of SEO, while SEM is a wider concept and includes SEO activities. The relationship between these concepts is often presented using the equation:
SEM = SEO + PPC, where SEO ( Search Engine Optimization) refers to website positioning, while PPC ( Pay Per Click ) with paid clicks in the traffic to the website.
What is SEO?
SEO (Search Engine Optimization) is optimization for search engines. One of the main tasks of SEO is to prepare a given site for later positioning.
Website optimization is the basic and first activity that we should start with SEO activities. The goal of optimization is to adapt our site to Google's guidelines in such a way that it is easily found by users. We do this through a series of activities described below.
SEO primarily:
– is a process, not a one-time action.
-cups on the amount of traffic, but I do not neglect the quality of content.
– takes into account various search engines: pictures, local and vertical.
SEO includes activities such as:
Optimization of headers, subpage titles,
Saturation of content on the website with key phrases,
Keyword selection, helping in later positioning,
Optimization of the speed of the website,
Construction of the architecture of links leading to the website (the so-called SEO facility),
Website map optimization.
What is SEM?
SEM (Search Engine Marketing), or marketing in search engines. The aim of SEM activities is to attract users interested in our product / service.
Features of SEM:
SEM includes, among others, SEO;
SEM includes paid advertising on Google. The price of such an advertisement depends on many factors, including industry popularity, appropriate fit, quality score;
By implementing the SEM strategy you will improve the visibility of the brand in the network – you will achieve high positions in the search results, you will become an industry specialist, strengthen the brand image;
High efficiency in relation to the budget for promotional activities;
SEM is also characterized by high flexibility – it is a strategy that can be implemented at every stage of enterprise development. In addition, you can easily estimate the expected effects of the campaign, because both positioning and sponsored links are actions that are relatively easy to measure and scale over time.
What is CPC?
With such concepts as SEO and SEM, it is worth explaining what CPC is. This abbreviation comes from the English term Cost per Click and in the simplest terms means that we pay for advertising exactly when a given user clicks on it. Currently, Google AdWords is the most popular tool for running sponsored links campaigns.
How does AdWords work?
The tool allows you to display ads on Google Search, which are visible above and beside organic search results:
With the help of the tool, you create ads that are displayed to users exactly when they are looking for products / services that you offer. In addition, the great advantage of AdWords is full control over the budget (you decide what amount you can spend on advertising) and the ability to reach a clearly defined target group, including data such as gender, age and location.
Advantages of SEO and SEM activities
Search engine marketing with many advantages that should be used to invest in SEM and SEO activities.
The most important advantages of SEM are:
Efficiency – SEM activities are characterized by a better ratio of effects to costs incurred than in the case of traditional marketing activities.
Brand advertising – according to research, search engine advertising is viewed by users as an acceptable and pleasant form of advertising. Due to the fact that the user is looking for information about a specific service or product.
Targeting – SEM is focused on specific words and phrases that the user enters into the search engine. Therefore, it is more likely that the advertisement will reach a person, who will benefit from a given product or service.
Quick benefits – SEM also gives the opportunity to achieve benefits in a relatively short period as well as in the long term. For this reason, it is possible to control the intensity of marketing activities to achieve the greatest effectiveness.
How to Plan SEM and SEO sensibly?
Despite the visible and undeniable advantages of search engine marketing, it is not an activity that will always be associated with achieving success. Above all, it should be remembered that SEM and SEO are actions that should be carefully considered and planned.
Excessive rush and irrational approach to running a marketing campaign may expose the company costs that will have no positive effects. What should you remember when planning SEM and SEO activities?
Set business goals – it is not enough to say that the goal is to maximize profit. It should be precisely defined how the organization wants to achieve this goal and what it really understands. If the goal is to increase the number of transactions, it should be considered how to intensify SEM and SEO activities to reach those customers who will want to include these transactions.
Adjust to the investment – when deciding to undertake the implementation of SEM and SEO activities, it should borne in mind that the positioning of the site will involve the occurrence of certain investments. Achieving visibility in search results is associated with having a functional website where the customer can easily find himself.
If in a given company in the marketing department there is no person who would be an expert and specialist in SEM and SEO, it is better not to risk you by taking such actions. In this situation, it is better to rely on a professional agency providing internet marketing services.
Remember that SEM activities are a process – it should also be remembered that SEM cannot be treated as a one-off project, one-time action or an advertising campaign that once yielded the expected result, which in turn will translate into a continuous increase in sales or the value of transactions.
SEM is a long-term process. Optimization and customization of the website is a continuous activity, because customer preferences are constantly changing, innovative technological solutions will create in the field of creating and presenting websites. And at the same time, competitive enterprises are emerging, which also want to exist on the Internet.
Analyze website traffic – when you decide to start SEM activities, i.e. both SEO and PPC, remember that it is necessary to analyze traffic on the website. Traffic analysis can show us on an ongoing basis how effective SEM and SEO activities are, which are taken in the organization.
On this basis, a decision can be made to increase the intensity of search engine marketing activities, or perhaps to use other tools that will increase traffic on our website, and thus contribute to the company's business goals that translate into its success in the business environment and strengthening the obtained competitive position.