Living in a Village on the Veluwe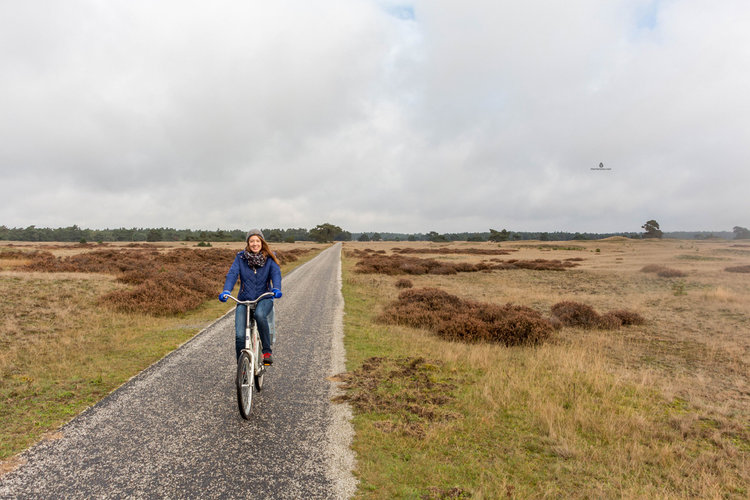 This afternoon I cycled between the moors and realized how much luck I have to live here. I have been living around the Veluwe all my life. I used to think it was terrible when I was a child, but all those trees are completely non-existent. No, I preferred the sea in my living environment.
Now I still think the sea is great, but I do not have to live by the sea. No, I prefer to live in Veluwe, and the best thing in the village where I live for a year now.
Every day I am amazed at how fast I am everywhere, in the forest I am on my bike in 10 minutes. If I want to see cows and farms I do not have to cycle for 10 minutes. If I want to see the sheepfold and heather, I have to cycle for 20 minutes.
If I want to buy groceries at a normal supermarket, I do 5 minutes with the bike. Almost all live close by and family does not live far away either. The only thing a bit further away is my work for which I am 20 minutes in the car. The village has almost everything you need to live.
I love nature around me. Love to go hiking or to go cycling. And sometimes you even see wildly. And even though I see them more often than people in the city, I am still looking at it with wonder. I especially like deer with their big antlers. But we also have boar in abundance.
They also regularly walk through the residential area. The moors are now fully in bloom, how beautiful is that. And I can know it and go there every day. I love the smell of pine trees and every season has a different smell. If the farmers have screamed over the land, I can be very happy about that.
Just like the smell of just mown land. The sounds of the corn cutter remind me of October and so every season has its sounds. I can even enjoy if I am awakened by birds in the spring
And yet when I moved here I had to get used to it a bit. For example, our village does not have a train station with a few bus lines that do not come anywhere.
I was surprised that I could park the car for free if I wanted to go to the village. And that I was not broke about parking. And when I went to the market, I wondered where the rest of the stalls were. It turned out to be the complete market.
I was surprised by the busy village nights that take place every summer. Everyone so cozy and in for a chat, there were not even disturbances. Nightlife is also relaxed here there are 2 pubs in the village where everyone knows each other. And I think they do not even have security guards at the door because that is not necessary. The pub owners know you and even know what you like to drink.
And of course there are also a number of drawbacks to living here. I always have to travel by car for my work. I think it would be ideal to go on a bike once.
Unfortunately, I would be on the road for over an hour. In addition, I think it's a strange idea that there is no hospital here.
Really close enough but suppose that 10 people need an ambulance and need to go to the hospital, then we have a serious problem. In the city, of course, but then you are faster in the hospital. What could also be a disadvantage is that you can not shop extensively here.
The standard shops are mostly there but many clothing stores are not. So you have to either go to the city or shop online.